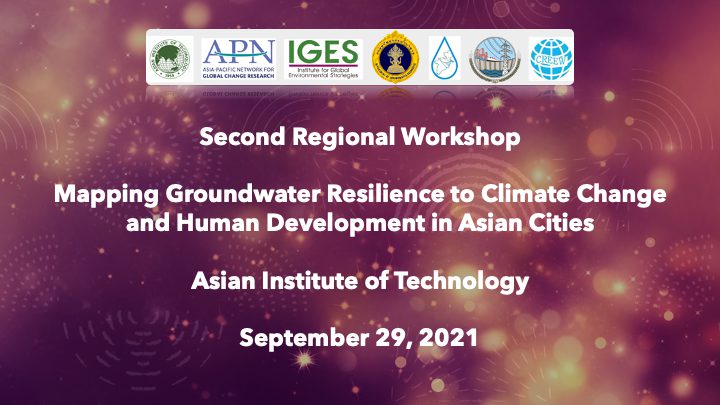 Asian Institute of Technology (AIT), Thailand together with Institute for Global Environmental Strategies (IGES), Japan; Department of Groundwater Resources (DGR), Thailand; Division of Water Resources Planning and Investigation for the South of Vietnam (DWRPIS), Vietnam; International Waterlogging and Salinity Research Institute, Pakistan (IWASRI) and Center of Research for Environment Energy and Water (CREEW), Nepal successfully organized the second regional workshop on "Mapping Groundwater Resilience to Climate Change and Human Development in Asian Cities" on Wednesday, 29 September 2021. The virtual workshop was the continuation of the first regional workshop conducted in August 2019 at AIT, Thailand. The project is funded by Asia-Pacific Network for Global Change Research (APN), an intergovernmental network that promotes policy-oriented research and capacity-building activities related to global change in the region.
Prof. Dieter Trau, Dean, School of Engineering and Technology, AIT delivered the opening remarks highlighting the thematic focuses of AIT in its education and research initiatives. Furthermore, he thanked project collaborators, APN, and emphasized the strategic importance of groundwater security in cities in the context of changing climate, population increment, industrial development, and alteration in land use. Prof. Dieter further expressed that the finding from the impact assessment on groundwater resiliency and the multiple adaptation strategies shall be useful to the researchers, policymakers, and managers of the region. Dr. Linda Anne Stevenson, Head of Knowledge Management & Scientific Affairs and Deputy Head of Development & Institutional Affairs, APN welcomed all the distinguished guests and participants of the workshop and provided an overview of APN, its activities in the Asia-Pacific region, and its contribution to global change research under multiple thematic areas. Furthermore, Dr. Stevenson stressed the urgent need to strengthen joint efforts for solution-oriented research, and interactions between the scientific community and policymakers for global safety and well-being in the context of various stresses.
Prof. Sangam Shrestha, Department Head, Department of Civil and Infrastructure Engineering (CIE), SET, AIT, and Principal Investigator of the project highlighted that the workshop objective is to create a platform for reviewing project progress and outputs, discuss the improvements needed for project methodologies and discuss the published and potential knowledge products. For this, the workshop consisted of three sessions namely Climate and land use change and population projection in Asian cities: Groundwater modelling and mapping resilience in Asian cities and Knowledge Products Development. Prof. Sangam Shrestha, Dr. S. Mohanasundaram, Mr. Sanjiv Neupane, and Ms. Usha Ghimire presented on several topics such as project introduction, its objectives, and methodologies, evaluation of several climates and land-use models, projection of multiple stresses, approaches used for hydrological, groundwater modelling, development of groundwater resiliency framework, its application and development of several knowledge products during the technical sessions.
Prof. Sangam Shrestha in the closing sessions summarized the suggestions and comments received in each session and extended sincere thanks for their active participation in improving project methodologies and outputs. The intensive interactive workshop was attended by more than 45 participants representing different government institutes, universities, international organizations, and research organizations from India, Indonesia, Japan, Nepal, Pakistan, Thailand, and Vietnam.